NASA photo, Feb. 1975: "The five prime crew members of the Apollo-Soyuz Test Project (ASTP) mission pose for a group photograph while at NASA's Kennedy Space Center (KSC) for a three-day inspection tour. They are, left to right, astronaut Donald K. (Deke) Slayton, docking module pilot of the American crew; astronaut Vance D. Brand, command module pilot of the American crew; astronaut Thomas P. Stafford, commander of the American crew; cosmonaut Aleksey A. Leonov, commander of the Soviet crew; and cosmonaut Valeriy N. Kubasov, engineer of the Soviet crew. They were at KSC to look over launch facilities and flight hardware. They are standing in front of artist Robert McCall's painting of an ASTP docking in Earth orbit."
Space history-wise, the time period from 1973 to 1975 is often overlooked. The Apollo lunar missions had ended, and the Space Shuttle program was just beginning to take shape. The keel for Enterprise had just been laid in 1974. That leaves us with two programs, which were all that remained of what was once known as the Apollo Applications Program: Skylab and the Apollo-Soyuz Test Project (ASTP).
People remember lots of disco-funk music, and the mustard-colored uniforms from that NASA era. Even Deke Slayton was wearing lots of plaid, wide ties, and was sporting of-their-time mutton chops. Unfortunately, in terms of attention, many space enthusiasts treat these 1970s programs like "the middle child." They are seen as lacking the glamour of the prior Moon landings, and aren't seen as thrilling as the then-upcoming Shuttle program.
NASA image, a 1973 artist's concept of the Apollo-Soyuz Test Project.
This blog has discussed Skylab countless times, and in the last decade that program has experienced – and continues to experience – a sort of renaissance in the hearts and minds of space fans. What about Apollo-Soyuz? While there were some pangs of nostalgia when its 40th anniversary was celebrated a couple of years ago, it, too, doesn't gain as much attention as its more exciting Apollo counterparts. Luckily, there are several books that serve to fill in the gaps for space enthusiasts curious about this July 1975 cultural, political, and technological watershed moment.
There are several astronaut autobiographies, including General Thomas Stafford's We Have Capture, Slayton's Deke!, and Alexei Leonov's Two Sides of the Moon (co-authored with astronaut Dave Scott), that discuss ASTP in detail. A newer autobiography, Vance Brand's Flying Higher and Faster, is a welcome addition to this genre. Published last year, Brand's book delves into much of the training he undertook before the mission, and underscores his personal dedication to fitting in as well as possible with the Soviet ASTP crew, Leonov and Kubasov. Brand took lessons in the Russian language on his own time, and on his own dime, well before the mission was flown.
"We probably had a lot of accent in our Russian. You know, Tom always claims to speak 'Oklahomaski,' which is a combination of Oklahoma – well, it's Russian with an Oklahoma accent. I know we all had an accent, and they had accents. We all had varying degrees of expertise with the other person's language. They did very well in English, I thought, and it was always hard for me to judge how well we did in Russian because you can't really hear yourself like a Russian would. But we had excellent communications, could understand each other very well." – Vance Brand, July 25th, 2000 NASA Johnson Space Center Oral History Project interview
There are also reminiscences about the trips the crews took afterward to promote their message of international cooperation in space. Brand is one of the quieter astronauts from the Apollo era, and it's nice to finally hear his thoughts about his life, career, and missions. Brand went on to fly three Shuttle missions in the years after ASTP, and remained at NASA until 2008, capping off nearly 42 years at the space agency.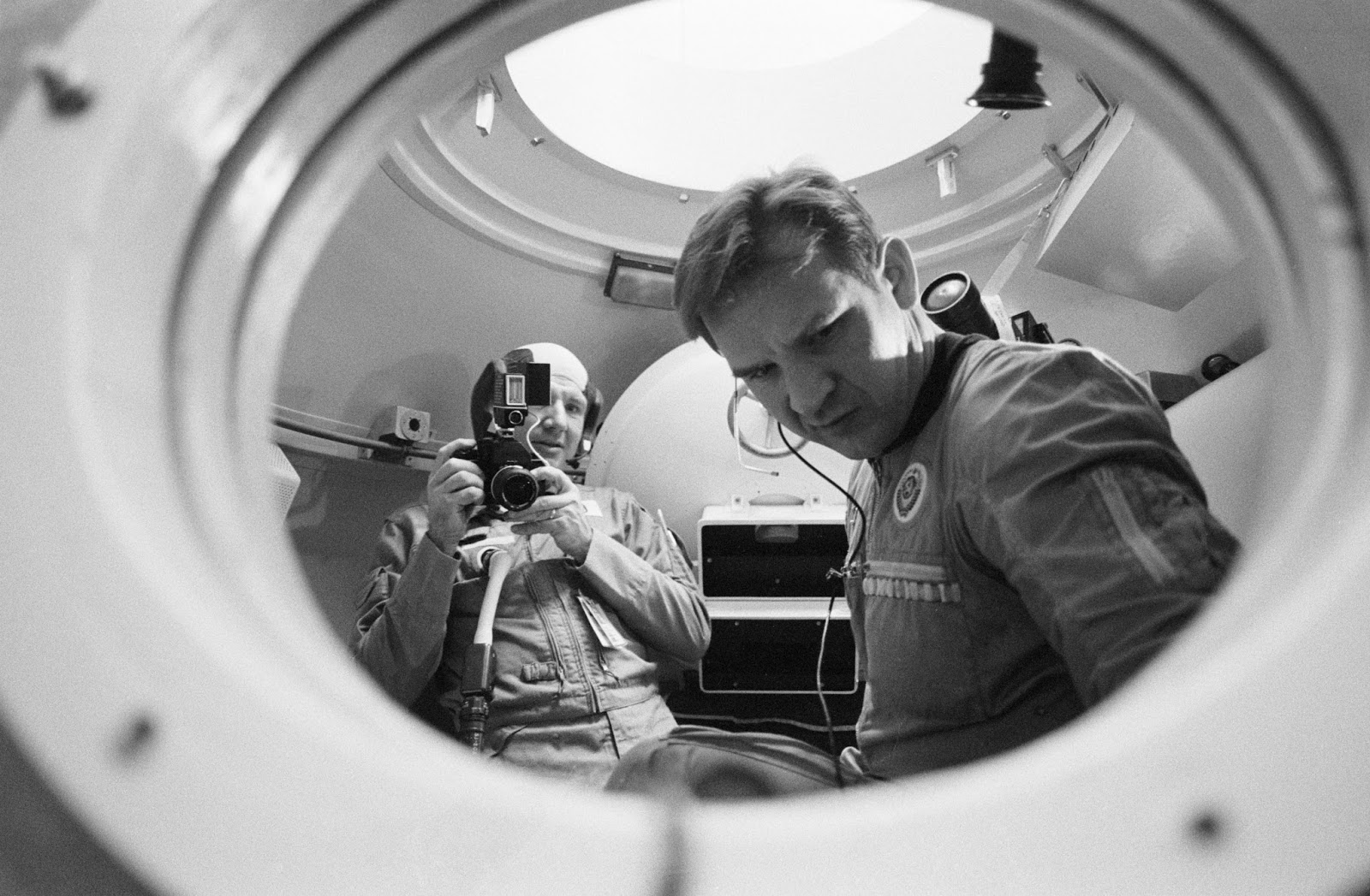 NASA photo, labeled Feb. 13, 1975: "Two crewmen of the joint U.S.-USSR Apollo-Soyuz Test Project mission participate in ASTP training in Building 35 at the Johnson Space Center. They are astronaut Vance D. Brand (left), command module pilot of the American ASTP prime crew; and cosmonaut Valeriy N. Kubasov, engineer on the Soviet ASTP first (prime) crew. They are in the Soyuz spacecraft orbital module mock-up. Brand and
Kubasov are going through a walk-through simulation of the second day of activities in Earth orbit. Brand takes some pictures."
Perhaps the best existing standalone book about ASTP is The Partnership: A History of the Apollo-Soyuz Test Project, written by Edward Clinton Ezell and Linda Neuman Ezell. Published by NASA shortly after the end of ASTP in 1978, this book delves into the many political, cultural, and technical challenges involved in bringing U.S. astronauts and Soviet cosmonauts together in orbit. One will discover that docking two disparate spacecraft with different atmospheres and operating pressures isn't as simple as it seems; there was much concern about the docking mechanism that brought the Apollo and Soyuz spacecraft together. While this book was published nearly 40 years ago, this writer has no doubt that many of its lessons and findings contributed to developing "Phase One" (Shuttle-Mir) and the International Space Station in subsequent years.
An upcoming book to be published on Apogee, the Apollo-Soyuz NASA Mission Reports, is currently being put together by author and filmmaker Dwight Steven-Boniecki. Maybe it's time for ASTP to have its own renaissance. Five men from completely different backgrounds and cultures found common ground in low Earth orbit, which at the height of the Cold War, was nothing short of miraculous. In addition, the cultural and technological resonances from this mission directly contributed to Shuttle-Mir, and our present fortress in space, the International Space Station. And, of course, there was a handshake we'll never forget.
Some content for this blog post was excerpted from the author's opening remarks at the Skylab/ASTP Panel at Spacefest VIII, which took place on June 10, 2017.
NASA photo, July 17 or 18, 1975: "Astronaut Thomas P. Stafford (left) and cosmonaut Aleksey A. Leonov are photographed together in the Soyuz Orbital Module during the joint U.S.-USSR Apollo-Soyuz Test Project docking mission in Earth orbit. They are respective commanders of their crews."
---
Emily Carney is a writer, space enthusiast, and creator of the This Space Available space blog, published since 2010. In January 2019, Emily's This Space Available blog was incorporated into the National Space Society's blog. The content of Emily's blog can be accessed via the This Space Available blog category.
Note: The views expressed in This Space Available are those of the author and should not be considered as representing the positions or views of the National Space Society.