Mr. Orlando Figueroa is a winner of the National Space Society's 2016 Space Pioneer Award for non-Legislative Government Service. This award recognizes the work he has done at NASA Goddard Space Flight Center and NASA Headquarters, including serving as the NASA Deputy Chief Engineer, Director for Mars Exploration, and other important positions at Goddard in engineering, management and as a Deputy Center Director for Science and Technology.
"It is an honor to be recognized for whatever contribution I and the NASA teams I was privileged to lead made to the exploration of space and to science, and to be able to enjoy as much," said Mr. Figueroa.
Mr. Figueroa will accept the award on May 19 at the National Space Society's 2016 International Space Development Conference® (isdc2016.nss.org). This will be the 35th ISDC and will be held in San Juan, Puerto Rico, at the Sheraton Puerto Rico Hotel and Casino. The conference will run from May 18-22, 2016.
About the Space Pioneer Award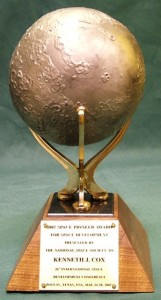 The Space Pioneer Award consists of a silvery pewter Moon globe cast by the Baker Art Foundry in Placerville, California, from a sculpture originally created by Don Davis, the well-known space and astronomical artist. The globe, as shown at left, which represents multiple space mission destinations and goals, sits freely on a brass support with a wooden base and brass plaque, which are created by Michael Hall's Studio Foundry of Driftwood, TX. NSS has several different categories under which the award is presented each year, starting in 1988. Some of the recent winners of Space Pioneer Awards include Elon Musk, Ray Bradbury, Robert Bigelow, citizen astronaut Anouseh Ansari, Dr. Kip Thorne, and the European Space Agency (ESA) Rosetta mission team.
About Mr. Orlando Figueroa
After starting work at the Goddard Space Flight Center in 1978, Mr. Figueroa served as manager and director of a very wide variety of Programs and organizations at NASA Goddard and at NASA Headquarters. His work on cryogenics may assist future development for storage and the transfer in space of such liquids as rocket propellants. Cryogenic storage and transfer technology is an enabler for reusable in-space vehicles and routine space operations.
NSS especially appreciates his many accomplishments during his years as Director for Mars Exploration. After the double failures of the 1998-9 Mars missions, just five years later Dr. Figueroa led NASA's achievement of the double successes of Spirit and Opportunity. These were dramatic comebacks for NASA and the planetary program. These programs are vital for both basic planetary science and to provide climate and geological information about Mars for future human exploration. The confidence building successes of the Mars Exploration Rovers led directly to the development of the Mars Science Laboratory rover Curiosity, while the Opportunity rover is still collecting vital geological information 12 years later.