The National Space Society Board of Directors has eight Regional Directors corresponding to eight regions defined as follows. The primary purpose is to create a pathway for local Chapter leaders to serve on the Board of Directors when they otherwise might not have the opportunity to do so.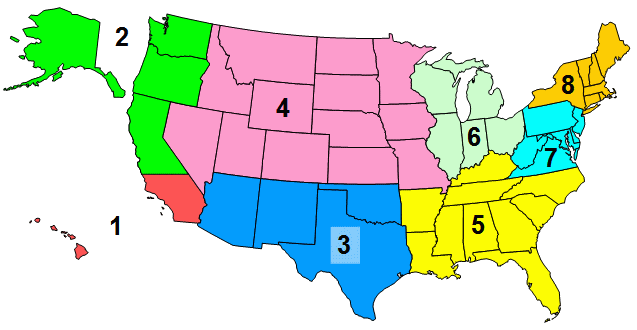 The eight regions are defined by the following list:
Region 1: Asia/Pacific: Asia (including all of Turkey, Israel, Kazakhstan, Georgia, Azerbaijan, Armenia, but not Russia), Australia, Antarctica, Southern California (California zip code areas 93499 and below), Hawaii, and islands in the Pacific, Indian, and Antarctic Oceans.
Region 2: Northwest North America: Northern California, Oregon, Washington, British Columbia, Alaska, Yukon, Northwest Territories, Nunavut, and islands in the Arctic Ocean.
Region 3: Southwest United States/Latin America: Arizona, New Mexico, Texas, Oklahoma, Mexico, Central America, South America, and islands in the Caribbean Sea.
Region 4: Central North America: Nevada, Utah, Colorado, Kansas, Missouri, Idaho, Wyoming, Nebraska, Iowa, Montana, South Dakota, North Dakota, Minnesota, Alberta, Saskatchewan, and Manitoba.
Region 5: Southern United States: Louisiana, Mississippi, Alabama, Florida, Arkansas, Georgia, South Carolina, Tennessee, North Carolina, and Kentucky.
Region 6: Midwest United States: Illinois, Indiana, Ohio, Wisconsin, and Michigan.
Region 7: Mid-Atlantic North America: Virginia, West Virginia, District of Columbia, Maryland, Delaware, Pennsylvania, and New Jersey.
Region 8: Afro-Europe/Atlantic: New York, Maine, New Hampshire, Vermont, Massachusetts, Rhode Island, Connecticut, Ontario, Quebec, New Brunswick, Nova Scotia, Prince Edward Island, Newfoundland, Europe (including all of Russia and Ukraine), Africa, and islands in the Mediterranean Sea and in the Atlantic Ocean excluding the Caribbean Sea.