The Grand Prize for the 2011 NASA/NSS Space Settlement Contest went to a  team of seven high school students from Punjab, India, for their double-torus space settlement design called Hyperion. The winning design was selected from 355 submissions from 14 countries.
The Hyperion Space Settlement has a diameter of 1.8 kilometers and would provide a safe and pleasant living and working environment for 18,000 full time residents and an additional population (not to exceed 2,000) of business and official visitors, guests of residents, and vacationers. The settlement would be constructed primarily from lunar materials and be located at the Earth-Moon L4 libration point.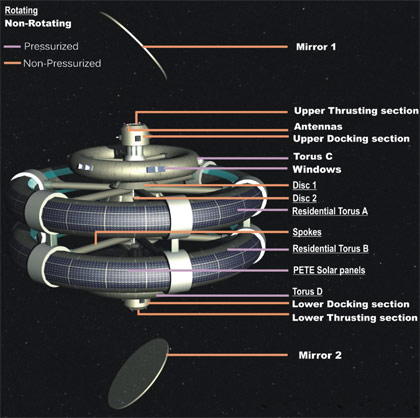 The complete Hyperion design is available for download as a 96-page, 11 MB PDF file.
The winning student team consists of Gaurav Kumar, Deepak Talwar, Harman Jot Singh Walia, Mahiyal B. Singh, Kaenat Seth, Ishaan Mehta, and Navdeep Singh Makkar. They write: "We would like to express thanks to NSS/NASA for this amazing platform that they have created which brings out the best in every individual. It has really helped us chase our dream and bring something we had only imagined to a global stage where it will be judged by the best. We feel elated to be a part of this lifetime experience and that is why we are really grateful to NSS/NASA from the very bottom of our hearts."