Wernher von Braun Memorial Award
The 2017 Wernher von Braun Memorial Award was awarded to Prof. Johann-Dietrich Wörner, Director General of the European Space Agency (ESA). This award, which is given every two years, recognizes Wörner as an effective leader of the European Space Agency and also recognizes the contributions of ESA to the world space community. NSS recognizes Prof. Wörner's great success in leadership, both in academia and government, and his excellence in mediation. He is now using both skills to support the space community and expedite its goals.
Space Pioneer Awards
William H. Gerstenmaier, associate administrator for Human Exploration and Operations at NASA headquarters in Washington, D.C., received the 2017 Space Pioneer Award for Non-Legislative Government Service. This award recognizes his long career at NASA, which has spanned 40 years. Gerstenmaier has overseen the development and maintenance of the International Space Station, a blueprint for global cooperation off the Earth. Gerstenmaier's indelible contributions to space station operations are helping to facilitate the growth of a robust commercial market in low Earth orbit for scientific research, technology development, and human and cargo transportation.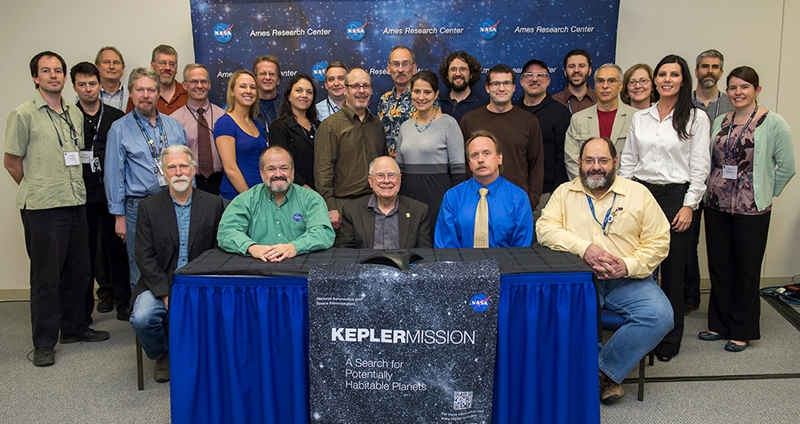 The NASA Kepler and K2 Team won the National Space Society's 2017 Space Pioneer Award in the Science and Engineering category. This prestigious award was presented to team representatives Charles K. Sobeck, project manager, and Dr. Natalie Batalha, project scientist. NSS proudly presented this award in recognition of the massive amount of work carried out by the whole team to propose, design, launch, and operate the Kepler and K2 missions and analyze the resulting data over many years. It also recognized all of the many volunteers who have been poring over the Kepler data to assist in finding planets around other stars.
Lieutenant General Thomas P. Stafford, USAF, Ret, was awarded the National Space Society's 2017 Space Pioneer Award for Historic Space Achievement. This award covers his service in the Gemini, Apollo, and Apollo-Soyuz programs. The flight of Gemini 9A on June 3, 1966, was 51 years ago.

MAC's Old Team of St. Louis, Missouri, won a National Space Society's 2017 Space Pioneer Award for Special Merit. This award recognizes the work performed by past employees of the McDonnell Douglas Company for the early U.S. human space program, including exemplary work building the Mercury and Gemini spacecraft. Those spacecraft led directly to and supported the development of the Apollo Program. The company was "ground zero" for America's first human spaceflight program, building 10 Mercury and 10 Gemini space capsules for those programs. James S. McDonnell had set 45 engineers at the St. Louis plant to start working on the first manned spaceship even before Sputnik was launched. Later, on February 13, 1959, work on the Mercury program was announced. Much of the simulation and training for America's first astronauts also happened in St. Louis, and those astronauts worked closely with the McDonnell employees.
George Dietrich, the founding president of SPACE Canada, received a National Space Society's 2017 Space Pioneer Award for Special Merit. This award recognized Dietrich's dedicated support for space solar power and conferences that cover it. Dietrich is a lawyer by profession and a space development supporter by preference. SPACE (Solar Power Alternative for Clean Energy) Canada is a not-for-profit organization dedicated to the promotion of solar energy from space—an abundant and sustainable source of safe, affordable clean energy for the world.
Eric Berger, the senior space editor at Ars Technica, was awarded the National Space Society's 2017 Space Pioneer Award for Mass Media. This award recognized the exemplary work he has done in the space news field for both Ars Technica, a major technology news website, and previously for the Houston Chronicle. Berger covers space business, spacepolicy, spacetechnology, and other related areas such as astronomy. His frequent, accurate, and detailed articles and series have helped the space community keep track of what is happening, why, and what the result may be.
Other Awards
Larry Ahearn won the 2017 Chris Pancratz Space Activist of the Year Award. Ahearn has been a space activist for more than 30 years and has served as an NSS officer or director since 1988. His positions have included NSS vice president and chapters coordinator. He has served on many NSS committees and is currently a member of the Bylaws, Chapters, and Membership Committees. He also serves as the Region Six Chapters Organizer. Other achievements include: testifying before Congress, the National Commission on Space, and various government agencies; acting as a program, logistics, and operations organizer and/or participant at 20 of last 22 ISDCs; serving as president of the highly successful 1989 ISDC; acting as a co-coordinator of NSS Events at the 1996 Democratic National Convention with major media coverage; cofounding the NSS Chapters Assembly; co-authoring the NSS Affiliate program and the INSIDE NSS newsletter; publishing articles and other materials in Ad Astra and many other publications. He has personally recruited more than 500 new NSS members and assisted in the chartering of 65 NSS chapters.
NSS also presented NSS Excellence Awards to NSS Board Member Burt Dicht and NSS President Alice Hoffman for their great efforts in support of major NSS initiatives.