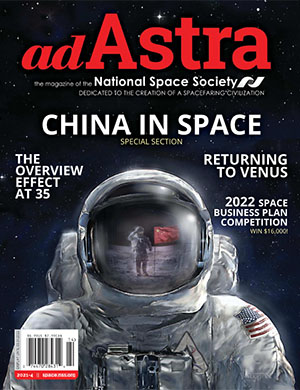 Featured Articles:
18
MIND THE "GAP"
NSS and Progress on LEO Commercialization
By Dale Skran, NSS COO
20
ENTER THE DRAGON
China and the Next era in Space
By John F. Kross
28
CHINA IN SPACE
Mythology and National Character Matter
By Molly Silk
35
NIAC AND NSS COLLABORATE ON THE FUTURE OF LIVING OFF-EARTH
NASA Innovative Advanced Concepts Workshop
By Dale Skran and Rod Pyle
38
HAIL THE DIVINE LADY
Rediscovering Venus
By Rod Pyle
44
A BETTER AD ASTRA
By Rhonda Stevenson
49
A TALE OF TWO SPACEPORTS
By John J. Vester
54
THE OVERVIEW EFFECT AT 35
By Frank White
58
THE SPACE SETTLEMENT IN OUR LIFETIME PRIZE 2021
Martine Rothblatt's Commitment to Advancing Humanity's Future
By Rod Pyle
Departments:
9
From the Editor: CHINA RISING
By Rod Pyle
11
From the NSS President
A DATE THAT WILL LIVE IN INFAMY?
By Michelle Hanlon
15
WHO IS THE NSS?
By Anthony Paustian, Ph.D.
61
BOOKS
Settling Space by John F. Strickland
Reviewed by Casey Suire
Don't Blow Yourself Up: The Further True Adventures and Travails of the Rocket Boy of October Sky, by Homer Hickam
Reviewed by Casey Suire
63
NSS CHAPTERS