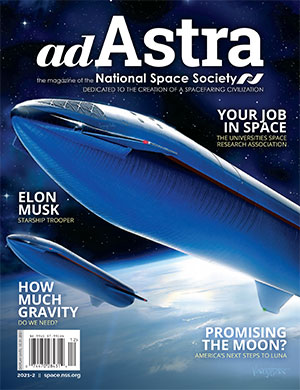 Featured Articles:
18
THE LITTLE HELICOPTER THAT COULD
By Rod Pyle
23
PROMISING THE MOON?
The Current State of Human Spaceflight Beyond Earth Orbit
By John F. Kross
30
ELON MUSK: STARSHIP TROOPER
By Rand Simberg
35
THE INVASION OF MARS
The Long Journey of Mars Odyssey
By Jordan Strickler
38
HOW MUCH GRAVITY DO WE NEED FOR LONG DURATION SPACE FLIGHT
By Jeff Greason
42
HOW MANY ASTRONAUTS?
By Kerry M. Joels
45
UPDATE ON INDIA'S SPACE PROGRAM
By Srinivas Laxman
48
YOUR JOB IN SPACE
The Universities Space Research Association
By Melissa Silva
Departments:
9
From the Editor: SPACE DEVELOPMENT IS A GLOBAL ENDEAVOR
By Rod Pyle
11
From the NSS President
SPACE: A COMMONWEALTH OF HUMANITY
By Michele Hanlon
15
THE RED PILL OF POSSIBILITY
By Anthony Paustian, Ph.D.
51
MEDIA and BOOKS
The High Frontier: The Untold Story of Dr. Gerard K. O'Neill (88-minute video documentary)
Reviewed by Emily Carney
Space Mining and Manufacturing: Off-World Resources and Revolutionary Engineering Techniques, by Davide Sivolella
Reviewed by Marianne J. Dyson
Shuttle Houston: My Life in the Center Seat of Mission Control, by Paul Dye
Reviewed by Casey Suire
Left Brains for the Right Stuff: Computers, Space, and History, by Hugh Blair-Smith
Reviewed by Ted Spitzmiller
Alcohol in Space: Past, Present and Future, by Chris Carberry
Reviewed by Melissa Silva
Beyond Earth's Edge: The Poetry of Spaceflight, by Swarstad Johnson and Christopher Cokinos
Reviewed by Jim Plaxco
Artist Depiction (6-episode series)
Reviewed by Rod Pyle
JPL and the Space Age: A Documentary Series
Reviewed by Melissa Silva
60
THE SPACE MOVEMENT ENDURES:
A Profile of Mark Hopkins
By Melissa Silva
62
SPACE LAW EXPLAINED:
Dr. Edythe Weeks Presents for NSS Chapters
By Robin Scott
63
NSS CHAPTERS