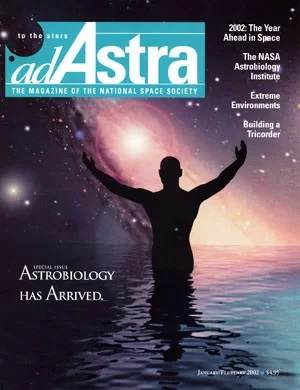 Ad Astra
The magazine of the National Space Society
Volume 14, Number 1 January-February 2002
Return to Back Issue Index
ON THE COVER: A sentient life form stands in the sea from whence its ancestors arose to embrace a living universe. Artwork: Keith Cowing/SpaceRef.com
Featured Articles:
10
Astrobiology at T+5 Years
The NASA Astrobiology Institute's search for extraterrestrial locales where life may be found.
By Baruch S. Blumberg and Keith Cowing
12
The NASA Astrobiology Institute: Reaching Within and Beyond
Terrestrial investigations as a construct to inform and focus on likely sources of extraterrestrial life.
By Rosalind A Grymes, Ph.D.
19
Finding Those Pale Blue Dots
Finding terrestrial worlds using the latest science.
By Jeff Foust
24
How Do You Build a Tricorder?
Future remote sensing technologies and their application.
By Keith Cowing and Greg Schmidt
28
A Sense of Place
Planetary Protection: the perils and protocols in obtaining viable research subjects.
By John D. Rummel and Margaret S. Race
32
Life in Extreme Environments
Extrapolating what may be encountered in space by studying extremophiles on Earth.
By Lynn Rothschild, Ph.D.
Departments:
4 Launch Pad
5 Transmissions
6 Mission Control
42 References
46 Space Community
48 Lifting Off