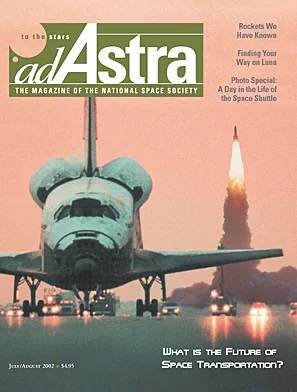 Ad Astra
The magazine of the National Space Society
Volume 14, Number 4 July-August 2002
ON THE COVER: In this composite image, the space shuttle Discovery lands at the Kennedy Space Center in Florida while another launcher heads for space. Foreground photo courtesy Boeing, inset courtesy Joseph Marino.
Featured Articles:
12
The Future of Space Transportation
Is it Expendable? Resuables? Or the Shuttle? Why not all three?
by Frank Sietzen, Jr.
15
U.S. Space Launch Pedigree
Change is afoot! And with the upcoming, new launch technologies, a look back at the Delta, Atlas, Titan and Shuttle family trees is in order.
By Frank Sietzen, Jr.
20
Report on Shuttle Safety
A report to the Congress and the public by the former chair of NASA's Aerospace Safety Panel provides the best and most recent summary of Space Shuttle safety issues.
By Richard D. Blomberg
24
A Day in the Life of the Space Shuttle
The shutter and lens of photographer Joe Marino takes us on a journey with the space shuttle from preparation, through launch and back with reentry.
Photographs by Joe Marino
30
"Orbit Awards" Honors Space Tourism
The inaugural Space Tourism Pioneer Awards honor those who have excelled in their contribution to making the idea of being a space tourist a reality.
By Larry Evans
32
The Need to Colonize
Do we as a species have the desire to engage in an endeavor that could change the world for the better? The time for
human exploration of Mars has arrived.
By Donald C. Barker, M.S., M.A.
36
Taking up the Garbage
Launch cost-per-pound got you down? How about some economies of scale with a payload that no one wants on Earth and a new system to get it into space?
By Jonathan Coopersmith
40
Space Standards
Someday, humans will need a system to find their way across the lunar terrain. Getting an accurate standard developed and getting it adopted is the challenge.
By Terry O'Hanlon & Mike Stennecken
Departments:
4 Launch Pad