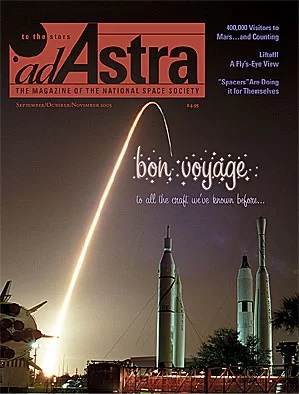 Ad Astra
The magazine of the National Space Society
Volume 15, Number 4 Sept-Oct-Nov 2003
Return to Back Issue Index
ON THE COVER: NSS Photographer Joe Marino captures space shuttle Columbia in a time-exposed lift off in 1999.
Featured Articles:
14
Burt Rutan's Personal Space
Aviation maverick Burt Rutan has his eye on the prize—the X Prize to be precise—and is building a means to capture it.
By Rob Loughran
18
Rocketcam
Go along for the ride with Ecliptic Technologies innovative tools for keeping an eye on Space.
By Rebecca Stowers
20
A Woman of Space
In an excerpt from the new book Women
of Space: Cool Careers on the Final Frontier, meet a woman who dreams of building a Noah's Ark for space.
By Laura S. Woodmansee
24
The Spaceships that Never Were
Drawing board or desert flat – these next gen craft never quite got the green light.
By Travis K. Kircher
32
My Trip to Mars
NSS photographer Jim Marino suits up, trains, and joins the 400,000-plus who have already made the journey to Mars.
By Joe Marino
38
The New Etiquette of Propulsion
That disc-shaped thing in the sky? Maybe
it's one of ours. The future of propulsion technology is that exotic…
By Meg Baker
41
Honoring Heroes
The U.S. Astronaut Hall of Fame welcomes its four newest inductees.
Departments:
4 Launch
Pad
6 Mission
Control
10 Policy Insight
11 Countdown
12 Guest Space
42 Space Community
48 Lifting
Off