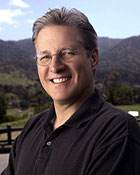 National Space Society Board of Governors
Bruce Boxleitner portrayed Captain John Sheridan in the Warner Brothers produced series Babylon 5. Among his achievements, Boxleitner shared "Best Actor in a Television Series" honors with David Duchovny of The X-Files at the annual Sci-Fi Universe Magazine Reader's Choice Award. In November 1999, he produced his first novel, Frontier Earth, a sci-fi western which was well received by the critics. A sequel, Frontier Earth: Searcher, came out in December 2001.
He has been a keynote speaker at the International Space Development Conference and has also been known to speak out elsewhere on the importance of space.
A native Midwesterner, Bruce Boxleitner received his formal acting training on the stage. He is an alumnus of Chicago's prestigious Goodman Theater. His first television appearance was a five-line part in The Mary Tyler Moore Show. Since then, he has worked steadily in television, frequently in Westerns, and became known for his starring role in the popular series Scarecrow and Mrs. King.
The actor co-starred with his real-life wife (Melissa Gilbert) in Danielle Steel's Zoya, on NBC-TV in 1995. The four hour mini-series was filmed entirely on location in Russia, Paris, Montreal and New York. Mr. Boxleitner played American Army Captain Clayton Andrews who became romantically involved with Zoya (Gilbert) and married her during the early 1900's. He also costarred in the four-hour miniseries Gambler V: Playing For Keeps.
Mr. Boxleitner has played the role of Billy Montana in four out of the five Gambler miniseries. His feature film credits include Walt Disney's science-fiction fantasy, Tron and The Baltimore Bullet with James Coburn. The versatile actor also appeared in the Disney Channel's Down The Long Hills, based on the Louis L'Amour novel of the same name.