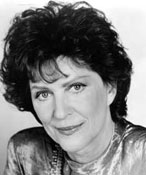 Majel Barrett Roddenberry
(1932-2008)
Former Member of the National Space Society Board of Governors
A veteran of stage and screen, Majel Roddenberry moved to Los Angeles after college to star in productions at the Pasadena Playhouse and the Santa Monica Playhouse. Her first television role in 1957 was in Leave It To Beaver. Majel was soon under contract to Desilu Studios. In 1960's Gene Roddenberry cast Majel in several series including The Lieutenant, and then as "Number One" and later the nurse in Star Trek. Later she became the voice of the Federation computer. Gene and Majel were married in 1968.
In 1987, Star Trek: The Next Generation began. Gene created the character Lwaxana Troi, Counselor Deanna Troi's flamboyant mother, for Majel. This role continued in Star Trek: Deep Space Nine. She has also appeared in Teresa's Tattoo (1994), Mommy and Spiderman (1995), and an episode of Diagnosis Murder (1998). Majel was also Executive Producer for two television projects which Gene had begun: Earth: Final Conflict and Andromeda.
Ms. Roddenberry reprised her role as the voice of the Enterprise computer in the 2009 Star Trek film directed by J. J. Abrams.
In addition to serving on the NSS Board of Governors, Majel has previously served on the NSS Board of Directors.