This award is given in odd-numbered years to recognize excellence in management of and leadership for a space-related project where the project is significant and successful and the manager has the loyalty of a strong team that he or she has created.
The award was originally proposed in 1992 by National Space Society Awards Committee member Frederick I. Ordway III, a close associate of and co-author with Wernher von Braun. In 2000, while working with sculptor and foundryman Michael Hall on a new version of the Society's Robert Heinlein award, Awards Committee member John Strickland proposed a new version of the award.
This version consists of two rocket figures standing on an inlay of black Italian granite. The to-scale figures are of the Von Braun "Ferry Rocket" (first seen by the public in the famous Colliers articles illustrated by Chesley Bonestell in the late 1940's, and later seen on Disney's TV episode "Man Into Space" in the mid-1950's), and the Saturn V Moon rocket designed and built by Von Braun and his team for the Apollo Program. On the award, the Ferry Rocket represents "the Dream" and the Saturn V represents achieved reality.
The earlier Von Braun awards during the 1990s consisted of a figure of the ferry rocket only.
Recommendations for recipients of the Von Braun Award are welcome — send suggestions to [email protected].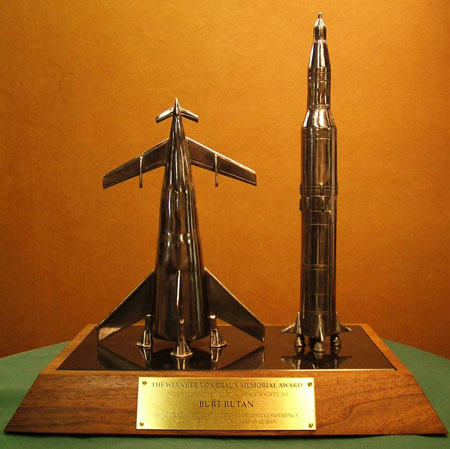 Von Braun Award Winners:
2023 – James Webb Space Telescope Team
2021 – Gwynn Shotwell
2019 – Tory Bruno
2017 – Prof. Johann-Dietrich Wörner
2015 – Mars Science Laboratory (Curiosity) Rover and Science Team
2013 – Dr. A.P.J. Abdul Kalam (publication quality view of award 1.8MB)
2011 – JAXA Hayabusa Team
2009 – Elon Musk
2007 – Steven W. Squyres
2005 – Burt Rutan
2001 – Donna Shirley
1999 – Robert C. Seamans, Jr.
1997 – George Mueller
1995 – Max Hunter
1993 – Dr. Ernst Stuhlinger