Space Settlement Library     NSS Main Library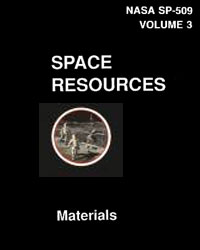 Space Resources, NASA SP-509 (1992)
Lunar Resources Utilization for Space Construction. Study conducted for NASA by General Dynamics Convair Division in 1979 concluded that lunar resources could supply 90% of the material for power satellite production and become cost effective if more than 30 satellites are produced. A nice summary of this study appears in Toward Distant Suns, Chapter 8.
Extraterrestrial Materials Processing and Construction.
Lunar and Planetary Institute, Dr. David R. Criswell, Principal Investigator, NASA Contract NSR-09-051-001, September 1978, 476 pages. [
PDF 14.9 MB
]. Abstract: Applications of available terrestrial skills to the gathering of lunar materials and the processing of raw lunar materials into industrial feed stock were investigated. The literature on lunar soils and rocks was reviewed and the chemical processes by which major oxides and chemical elements can be extracted were identified. The gathering of lunar soil by means of excavation equipment was studied in terms of terrestrial experience with strip mining operations on earth. The application of electrostatic benefication techniques was examined for use on the moon to minimize the quantity of materials requiring surface transport and to optimize the stream of raw materials to be transported off the moon for subsequent industrial use.
Nonterrestrial Utilization of Materials: Automated Space Manufacturing Facility.
Chapter 4 from
Advanced Automation for Space Missions
, NASA Conference Publication 2255, 1982, 115 pages. [
PDF 8 MB
]
Recovery and Utilization of Extraterrestrial Resources
– Bibliography and Abstracts. NASA Scientific and Technical Information Program, 2004, 207 pages. [
PDF 2.6 MB
]
Additional papers