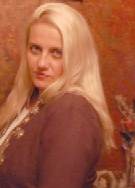 Veronica Ann Zabala-Aliberto
Veronica Ann Zabala-Aliberto has served twice on the National Space Society Board of Directors. She is the Founder and President of the Phoenix Chapter of The National Space Society and serves as a Jet Propulsion Laboratory Solar System Ambassador (2004-present).  Veronica is a member of the NSS Chapters Committee and serves as the NSS Chapters Projects & Events Coordinator.
She is a veteran of the Mars Desert Research Station serving on Crew 36 as Crew Geologist on the first all-female crew to a Mars analogue station in Utah in March 2005 and Commander of a private F.L.A.M.E. mission in June 2005 (which she shared with her three children), and will be commanding a mission in March 2007. The final mission of F.L.A.M.E. was in March 2008 in which Veronica Ann commanded as well.
She was assigned to work on the Lunar Reconnaissance Orbiter mission that launched in Spring 2009. She has been involved with the calibration of the LRO Narrow Angle Camera, research in planetary geology as well as creating education outreach materials for educators, students and members of the general public related to the mission.
Veronica has presented at invited talks and gives lectures to schools and space related venues. Veronica is heavily active within the academic, scientific and non-profit sectors related to human space exploration and settlement. She also devotes much of her time educating the next generation of scientists, engineers and explorers. She enjoys hiking, camping, aviation, and Clive Cussler novels.