From Ad Astra, Volume 19 Number 2, 2007
As global climate change becomes accepted as a reality, space-based assets take center stage.
By Leonard David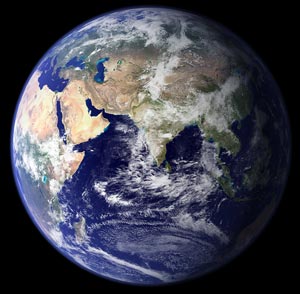 You would have to be in a galaxy for away not to have heard the disturbing news: Earth is undergoing the stresses and strains of global climate change.
Recent reports issued by the Intergovernmental Panel on Climate Change (IPCC), a United Nations body established in 1988, have unveiled a comprehensive view of the present knowledge of the global state of climate change, drawn in large measure by the output of orbiting satellites.
It's a nasty picture of melting glaciers, disastrous weather patterns, food and water shortages, coasts underwater and on and on.
ADDING DATA TO THE DEBATE
All this and other climate change-generated chaos adds up to a security issue of global scope, a view espoused by Jeffrey Harris, executive vice president and managing director, Lockheed Martin Horizontal Integration of Situational Awareness Systems.
But how best to calibrate and react to climate change necessitates adding data to the debate, Harris says. To do that, information gleaned from watching spacecraft and sensor systems from Earth are critical.
The blunt message, says Harris is "Don't be poor in a hot country. Don't live in Hurricane Alley. Watch out about being on the coast or in the Arctic. And it's a bad idea to be in high mountains with glaciers melting."
ENVIRONMENTAL AND ECONOMIC INTELLIGENCE
Who's watching Mother Earth? Harris and other panel experts addressed the issue at the 23rd National Space Symposium, held April 9-12 this year in Colorado Springs, Colorado.
Earth systems are complicated, explained Conrad Lautenbacher Jr., administrator of the National Oceanic and Atmospheric Administration (NOAA). "It's not something that you can describe in an elevator speech and in two to three minutes decide how to solve all the issues that we create by living on the Earth."
"I want you to think about NOAA as a space agency. A quarter of our budget is devoted to space observation and what I call environmental and economic intelligence," Lautenbacher added.
Lautenbacher said that a needed capability is gaining an all-inclusive view of what is going on consistently, continuously and at a level at which scientists can build the computer models and predict the future in regard to climate change.
An emerging action plan includes the creation of a global earth observation system of systems (GEOSS). NOAA is working with its federal partners, including NASA, along with more than 60 countries and the European Commission, to
develop an integrated global monitoring network.
"We need this end-to-end system," Lautenbacher emphasized. "We have a 10-year plan that we're working on. This system needs to be comprehensive, needs to be coordinated, needs to be sustained to fill in the gaps. If we are going to have an understanding of what's going on, we need these global systems."
CAST THE NET WIDER
Advocating an acceleration of effort is Peter Teets, a former under secretary of the Air Force as well as a past director of the U.S. spysat agency, the National Reconnaissance Office.
"We need to have a mechanism for having the science community made aware of what can be done from a remote-sensing capability and then choose the right set of instruments and the right capabilities and go forward in a long-term kind of a plan," Teets said. "This isn't something that's going to be a three- or four-year program—it's going to be a decades-long program."
Teets stressed the need to move forward with the National Polar-orbiting Operational Environmental Satellite System (NPOESS). Now a project in cost-overrun mode and being restructured, NPOESS is a tri-agency environmental monitoring program directed by the Department of Commerce, the Department of Defense and NASA.
The first NPOESS spacecraft is planned for 2013, armed with sensors to allow for better weather forecasts, severe-weather monitoring, and detection of climate change.
Noting that there's a need to cast the net wider than just NPOESS, Teets advocated moving ahead on the project and making it as successful as possible. "Get it up and get the data coming down," he concluded.
GLOBAL WAR ON CLIMATE
Global change is "all about national security now," suggested Maureen Heath, vice president, civil space, Northrop Grumman Space Technology. "It doesn't matter whether it is man-made or natural climatic cycle. We'll leave that to the scientists to figure out."
Heath labeled global change a "weapon of mass destruction." The only difference is that it doesn't happen in a microsecond; rather, this demolition is drawn out over the rest of the millennium, she stressed.
"It could be just as devastating as any terrorist attack," Heath continued, with space-based assets capable of timely and consistent environmental observations essential to preserving humankind's way of life on Earth. "We can bring those to address the other global war—the global war on the climate and not just the global war on terror," she stated.
Leonard David has been reporting on space exploration for more than 30 years. He was an award-winning senior space writer for SPACE.com and his work has appeared in numerous newspapers, magazines and books, such as the Financial Times, Foreign Policy, Bulletin of the Atomic Scientists, Sky and Telescope, Astronomy, and SPACE.com's sister publication, Space News.