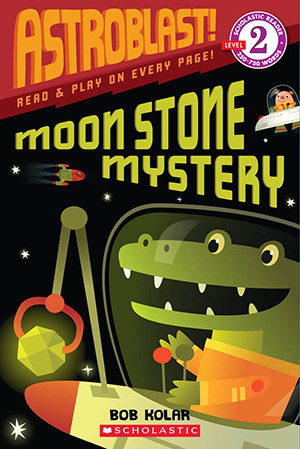 Category: Children's Book
Reviewed by: Marianne Dyson
Title: Astroblast: Moon Stone Mystery
Author & Illustrator: Bob Kolar
Ages: 4-8
NSS Amazon link for this book
Format: Paperback
Pages: 36
Publisher: Scholastic, Cartwheel Books
Date: October 2010
Retail Price: $3.99
ISBN: 0545169267
Astroblast uses a simple rhyming story with a space setting to help first and second graders learn to read. An alligator character named Jet collects a rock from a nearby moon – not Earth's Moon. He returns to a space station called the Snack Shack where the crew (consisting of a dog, a rabbit, a monkey, and a pig) have just finished cleaning. Jet slips and falls while showing them his new rock, spilling "space sauce" everywhere.
The crew vacuum and mop to clean up, but the mess mysteriously disappears while they are working. They realize the rock has grown huge – it's alive. They give this "visitor" a snack, and then Jet takes him back to his moon.
At the bottom of each page spread is a "hidden picture" activity that requires the reader to find letters, shapes, and objects. An answer key is provided at the back of the book, along with some bonus searches.
This book does what it intends – encouraging children to read. The book's "hidden" message that careful observation can lead to unexpected surprises, is an extra bonus that supports investigative learning. The cartoonish art is also extremely cute.
The space theme adds to the "mystery" and offers a wonderful venue for exploration. Checking to see what is different in a reflection was my favorite, though I counted Jet missing his hat and pig wearing it as two differences, not one.
My only disappointment was with the last activity. The reader is asked to identify 5 things that begin with the letter "V." I found 5, but not the 5 in the answer key. The illustration shows a vacuum cleaner that was used in an earlier spread to clean up a mess. (Space geek parents can note that this unit can take advantage of the vacuum, or lack of air, outside in the black space shown out the window!) Yet this is NOT one of the answers. I also picked the alien visitor, the only other "v" word introduced in the book. This also was NOT one of the answers. Children who just learned both of these new "v" words are sure to be frustrated that their correct answers don't count.
Children may also feel tricked when they discover that three things, a carrot and two mushrooms, are supposed to count as ONE of the five "V" things, i.e. vegetables. Even if you agree that mushrooms are a vegetable (technically, they are fungi), having multiple objects count as one is sure to result in kids yelling, "That's not fair!" However, parents might use this "vegetables thing" as a springboard for discussion about the usefulness of scientific categories and what to do with "things" that don't exactly fit.
The "Snack Shack" space station is a great concept – space enthusiasts might call it by the more mundane name of a supply depot, something that future space settlers will certainly need. The Snack Shack is pictured as floating in space, yet it appears to have normal gravity inside. Parents might use this apparent discrepancy as an opportunity to explain how spinning may be used to create artificial gravity. (Remember, there IS gravity in space. Things are weightless and float because they are falling. )
I give this book points for plausibility, illustrations, new perspective, readability, use of science (exploring counts!), and interesting characters. Astroblast uses a cute space setting to encourage children to read and engage them in activities that help build observational skills. Definitely a winner!
© 2010 Marianne Dyson
Please use the NSS Amazon Link for all your book and other purchases. It helps NSS and does not cost you a cent! Bookmark this link for ALL your Amazon shopping!