The National Space Society (NSS) has named the Juno mission team as the recipient of NSS' Space Pioneer Award for Science and Engineering. The Juno spacecraft has orbited Jupiter since 2016, returning an enormous amount of data representing unprecedented insights into Jupiter's interior structure and gravitational and magnetic fields.
The prestigious award will be presented to Dr. Scott Bolton, Juno Mission Principal Investigator to represent the team, at the Society's 39th annual International Space Development Conference (ISDC®), to be held in the Dallas area at the at the Embassy Suites by Hilton Dallas-Frisco Hotel and Convention Center on May 31, 2020. NSS invites the public to come meet, interact and learn from Dr. Bolton and attend his award ceremony.
For more information, see: isdc2020.nss.org.
This award honors the Juno mission team's achievement. The Juno mission was launched on August 5, 2011 and arrived at Jupiter on July 4, 2016. It was the first solar powered spacecraft to reach Jupiter and operate in Jupiter's orbit. The Juno spacecraft, with its multiple instruments and imagers, has returned an enormous amount of data and amazing images from Jupiter, especially from the polar areas which were not seen in good detail by earlier missions. The instruments are investigating Jupiter's internal structure, its atmosphere, magnetic field and radiation environment. This includes visible light color, infrared and ultraviolet imagers. Juno has discovered that the "weather layer" containing active jet streams on Jupiter is 3000 kilometers thick and is equal to three Earth masses. Beneath that very active layer, Jupiter may rotate as a nearly rigid body. It also has a significant north-south gravity asymmetry. The mission is still active and will continue as long the spacecraft is not disabled by Jupiter's intense radiation field.
About the Space Pioneer Award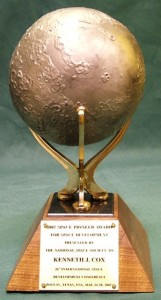 The Pioneer Award consists of a silvery pewter Moon globe cast by the Baker Art Foundry in Placerville, CA, from a sculpture created by well-known astronomical artist Don Davis. The globe, which represents multiple space destinations and goals, sits freely (unattached) on a brass support with a wooden base capped with a black granite inlay, both of which are created by renowned sculptor Michael Hall of Studio Foundry of Driftwood, TX. The brass plaque on the base is created by Art Hall Awards of Austin.