Peter Wilhelm has led over 100 spacecraft and satellite programs for the Naval Research Laboratory (NRL) throughout a long and distinguished career. To honor his achievements, the National Space Society (NSS) has named Peter Wilhelm the 2019 recipient of NSS' Space Pioneer Award for Science and Engineering.
The prestigious award will be presented to Peter Wilhelm at the Society's 38th annual International Space Development Conference (ISDC®), to be held in the Washington, DC area at the Sheraton Pentagon City Hotel from June 6-9, 2019. NSS invites the public to come meet, interact and learn from Mr. Wilhelm and attend his award ceremony.
For more information, see: isdc2019.nss.org.
This award honors the work Peter has done for over five decades with the Naval Research Laboratory from 1959, just two years after Sputnik, until 2014. He was named director of the Naval Center for Space Technology in 1981. His significant contributions include:
The first radar detection satellite program, which the public later knew as "GRAB", its "cover" being a working scientific solar radiation detector.
SOLRAD-HI was a Solar Radiation Storm alert system for Apollo.
The first Global Positioning System (GPS) satellite.
The lunar mapping system Clementine.
A 2004 wind speed and direction satellite for NOAA/Navy: WINDSAT.
A satellite system to keep track of all sea-going vessels.
During what he refers to as his "55.75-year-long" career, he managed the development of about 100 NRL satellites and oversaw the design and launch of most of these.
About the Space Pioneer Award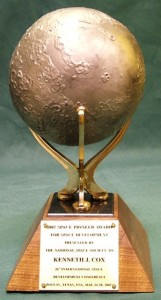 The Space Pioneer award consists of a silvery pewter Moon globe cast by the Baker Art Foundry in Placerville, California, from a sculpture originally created by Don Davis, the well-known space and astronomical artist. The globe, which represents multiple space mission destinations and goals, sits freely on a brass support with a wooden base and brass plaque as shown at right. The support and base are created by renowned sculptor Michael Hall of the Studio Foundry of Driftwood, TX. NSS has several different categories under which the award is presented each year, starting in 1988. Past recipients of the Space Pioneer Award include: Elon Musk, Ray Bradbury, Robert Bigelow, Apollo Astronaut Russell L. Schweickart, Dr. Michael Griffin, the Rosetta Mission Team, the Kepler-K2 Team, the New Horizons Mission Team and the Voyager Mission Team.