George Dietrich, the founding President of SPACE Canada, is the winner of the National Space Society's 2017 Space Pioneer Award in the Special Merit category. This award recognizes his dedicated support for Space Solar Power and conferences that cover it.
The National Space Society invites the public to join them in presenting the Space Pioneer Award to George Dietrich at its Gala Dinner on Sunday, May 28, 2017 at the 36th NSS International Space Development Conference® (isdc.nss.org/2017). The conference will be held in St Louis, Missouri, at the Union Station Hotel, running from May 25-29, 2017.
About George Dietrich
George Dietrich is a lawyer by profession and a space development supporter by preference. George is the founding President of SPACE Canada. SPACE (Solar Power Alternative for Clean Energy) Canada is a not-for-profit organization dedicated to the promotion of solar energy from space; an abundant and sustainable source of safe, affordable clean energy for the world.
George graduated from the University of Windsor Law School in 1989. He also holds degrees in Science (Physics and Mathematics) and the Arts (Political Science). He received his Masters Degree in Law from McGill University's Institute of Air and Space Law in 2002. He has written articles on space law and co-authored an article on the international legal prerequisites of solar power satellites with Jeff Kehoe and William Goldstein. George Dietrich was called to the bar of the Province of Ontario, Canada in 1991. His law firm is located in the Kitchener-Waterloo area.
George has provided direct and generous support for many events over the last decade in direct support for space-based solar power (SBSP). NSS believes that SBSP is the only currently existing means of electricity production with sufficient capacity to provide human civilization with the power it needs. Such abundant, clean power is needed, both to raise the global standard of living and to end the release of carbon-based greenhouse gases. SBSP is extremely efficient in use of materials and land compared to most other existing energy sources including ground-based solar power. NSS supports the creation of a free, spacefaring civilization, for which we will need such a large source of clean energy, both on Earth and in space.
About the Space Pioneer Award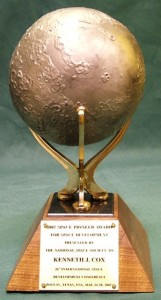 The Space Pioneer Award consists of a silvery pewter Moon globe cast by the Baker Art Foundry in Placerville, California, from a sculpture originally created by Don Davis, the well-known space and astronomical artist. The globe, as shown at right, which represents multiple space mission destinations and goals, sits freely on a brass support with a wooden base and brass plaque, which are created by the greatly respected Michael Hall's Studio Foundry of Driftwood, TX. NSS has several different categories under which the award is presented each year, starting in 1988. Some of the recent winners of Space Pioneer Awards include Elon Musk, Ray Bradbury, Robert Bigelow, Apollo Astronaut Russell L. Schweickart, Dr. Michael Griffin, and the Rosetta Mission Team.