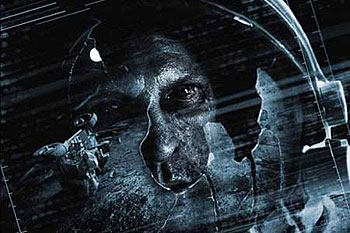 "THE SPACE CAPSULE IS COMING FROM INSIDE THE HOUSE." Apollo 18 brings the lolz, disappoints.
I hope this review encapsulates the feelings I had when I watched this movie tucked into a seat in the back of the theater hoping no one would see me there. I literally started laughing violently at some of the scenes in the movie and took a picture of myself doing this. However, I deleted the photo because some usher at the theater got mad. Oh, well. At least he didn't kick me out. However, I wouldn't have cared, because I knew how the movie was going to end anyway.
Here's some selected text of this review to ponder:
"The word 'predictable' is almost too predictable of an adjective to even begin to describe Apollo 18. In fact, I think I broke my computer's thesaurus trying to find more synonyms for 'predictable.' (My hard drive is going to start smoking a cigarette in about two seconds.)"
Read the review and draw your own conclusion. EDIT: SPOILERS INCLUDED! If you were going to see this movie, I am going to ruin it for you.


Text and photo courtesy of Popshifter, September/October 2011.
---
Emily Carney is a writer, space enthusiast, and creator of the This Space Available space blog, published since 2010. In January 2019, Emily's This Space Available blog was incorporated into the National Space Society's blog. The content of Emily's blog can be accessed via the This Space Available blog category.
Note: The views expressed in This Space Available are those of the author and should not be considered as representing the positions or views of the National Space Society.