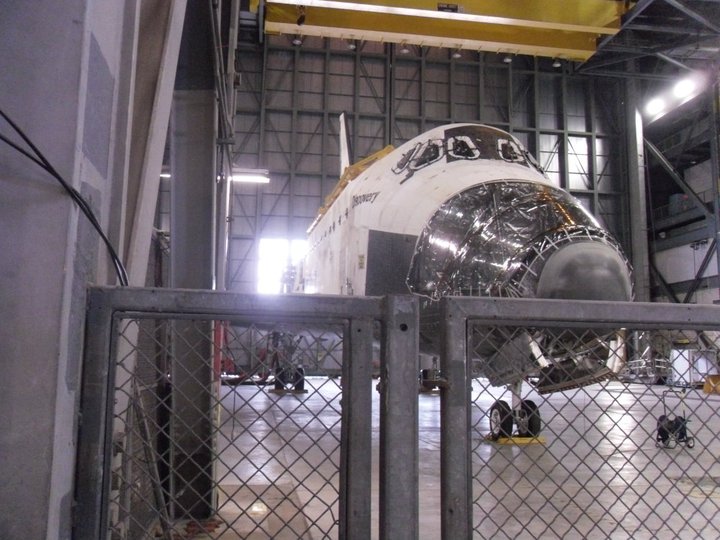 The space shuttle Discovery inside the Vehicle Assembly Building (VAB) at Kennedy Space Center, August 4, 2011. Photo by the author.
KSC's Visitor Center has just announced on their Facebook that they are allowing – for the first time in ages – tours of the famous Space Cathedral, the Vehicle Assembly Building (VAB). From their press release:
"For the first time in more than 30 years, guests at Kennedy Space Center Visitor Complex will have the chance to disembark their tour buses and tour inside the VAB to see firsthand where monstrous vehicles were assembled for launch, from the very first Saturn V rocket in the late 1960s to the very last space shuttle, STS-135 Atlantis, earlier this year.

The opportunity to visit the VAB will be offered for a limited time to a limited number of Visitor Complex guests per day as part of KSC Up-Close, a new two-hour, guided special interest tour. Beginning Nov. 1, the tour will be offered eight times daily for $25 for adults and $19 for children ages 3-11, plus the cost of admission which is $43 + tax for adults and $33 + tax for children ages 3-11.

Making this once-in-a-lifetime opportunity even more special, for a very limited time, guests on the KSC Up-Close tour may see a space shuttle orbiter inside the VAB as they are being prepared for display in their new homes in Los Angeles, CA, Washington, DC and Florida.

Tickets will be on sale soon. Stay tuned for more details!"
Here's another shot I took of the VAB during the Juno NASA Tweetup: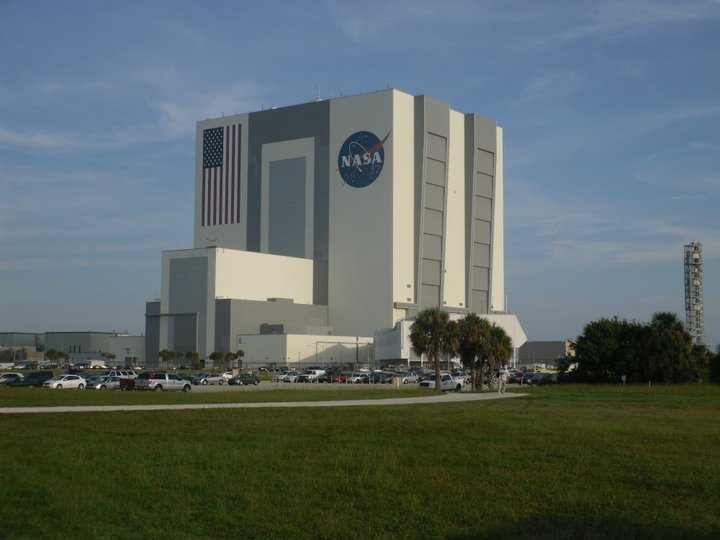 The building is even more unimaginably enormous when one sees it through his or her own eyes. If you've never seen it before and you happen to be a space enthusiast, I would recommend that you visit it before they stop the tours. It's a breathtaking experience and an immense honor to have stood where those great vehicles were once assembled. The VAB is the world's largest one-story building and was home to the Apollo space vehicles and the space shuttles during assembly. It was built in 1966. At one point, it had an interesting bicentennial logo painted on it; the classic NASA vector logo was repainted on the building in 1998.
In addition, NASA's Multi-Purpose Crew Vehicle now has a page on Facebook. Apparently astronauts are already doing simulations involving the next-generation spacecraft which hopefully will fly within the next decade, ushering in a new era of spaceflight to the Moon and other worlds (we'll see). This page has a ton of information and photos. See it now before it becomes mainstream, so you too can be a Space Hipster.
---
Emily Carney is a writer, space enthusiast, and creator of the This Space Available space blog, published since 2010. In January 2019, Emily's This Space Available blog was incorporated into the National Space Society's blog. The content of Emily's blog can be accessed via the This Space Available blog category.
Note: The views expressed in This Space Available are those of the author and should not be considered as representing the positions or views of the National Space Society.