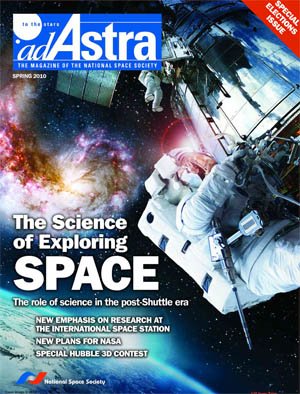 Ad Astra
The magazine of the National Space Society
Volume 22, Number 1 Spring 2010
Return to Back Issue Index
On the Cover: Image copyright by Imax Corporation
Featured Articles:
19
Space Policy
A CONTROVERSIAL NEW DIRECTION FOR NASA
The White House unveils its new plans.
By Jeff Foust
22
RACING THROUGH SPACE
Human achievement reaches a pinnacle on the International Space Station
by Adam Morgan and Melissa Mathews
28
ISDC: A LOOK AHEAD
Detials on our upcoming conference.
By James Oberg
30
ARES 1-X
A relevant part of NASA's future space plans?
By Bart Leahy
32
WORLDS COLLIDE
How new theories and ground-breaking discoveries are changing our view of where to find Earth-like planets.
By Avi M. Mandell
36
BOARD OF DIRECTORS ELECTIONS STATEMENTS

Departments:
9
NSS ANNOUNCEMENTS
The Legislative Blitz: We Were Heard
By Rick Zucker
10
LETTER FROM HEADQUARTERS
Your Vote Matters
By Brett Silcox
11
LETTER FROM THE PUBLISHER
By Pat Silver
13
LETTER TO SPACE AMBASSADOR PROGRAM APPLICANTS
Great News!
By Lee Jones
14
A LETTER FROM THE DEVELOPMENT & FUNDRAISING COMMITTEE
Going Once, Going Twice, Sold!
By Robby Gaines
46
SPACE SETTLEMENT
Alternative Futures
By Mark Hopkins
47
LETTER FROM THE EXECUTIVE COMMITTEE CHAIR
Finding Common Ground/Space?
48
BOOKS
The Seventh Landing: Going Back to the Moon, This Time to Stay, by Michael Carroll
Reviewed by Steve Adamczyk
Paradise Regained: The Regreening of Earth, by Les Johnson, Gregory L. Matloff, and C. Bangs
Reviewed by Bart Leahy
50
CHAPTER LISTINGS
55
SIGNING OFF
Expedition 22 Crew Lands